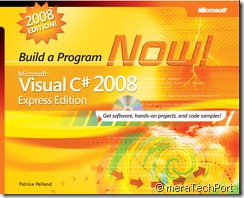 To celebrate its 25th Anniversary, Microsoft Press is offering a free e-book:
Microsoft® Visual C#® 2008 Express Edition: Build a Program Now!
By Patrice Pelland
ISBN: 9780735625426
Get this Free e-book now from here, Sign up to download the entire e-book (PDF, 7.8 MB)
Some people have experienced difficulties because it downloads a file called 'pdf_loader.pl'. So proceed with the download, and once it is complete rename the file with an extension of .pdf and it will work!